Jacob's Ladder
Mount Angel Abbey - Order of Saint Benedict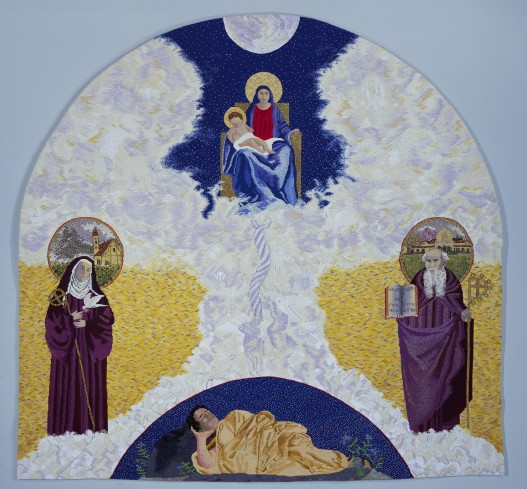 Jacob's Ladder
Designed and woven by Pam Patrie




'Jacob's Ladder' was commissioned by the Abbey and through the generous patronage of oblate Henry Ellis, and friends Jim Brown and Hal Painter. This tapestry was five years in research, designing and weaving by Pam with close communication with the monastery community and Father Nathan Zodrow. Jacob's Ladder is a story from the old testament of the Bible. I used the King James' version for my research.

A famous second story of Jacob is about his wrestling match with an Angel. I have depicted this very interesting story in a modern version using the subtle weaving of special symbols and images only seen under a UV light.

Special viewings and discussions with visitors have taken place every few years in conjunction with special retreats at the Abbey guesthouse and conference room.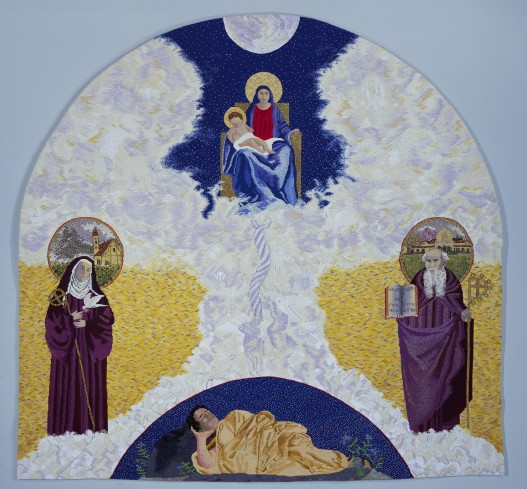 Click on image to view at a higher resolution.
(This is a very large file)



Benedict
detail

Jacob
detail

Scholastica
detail

Angel
detail
Home
About Pam
Gallery
Workshops
Commissions